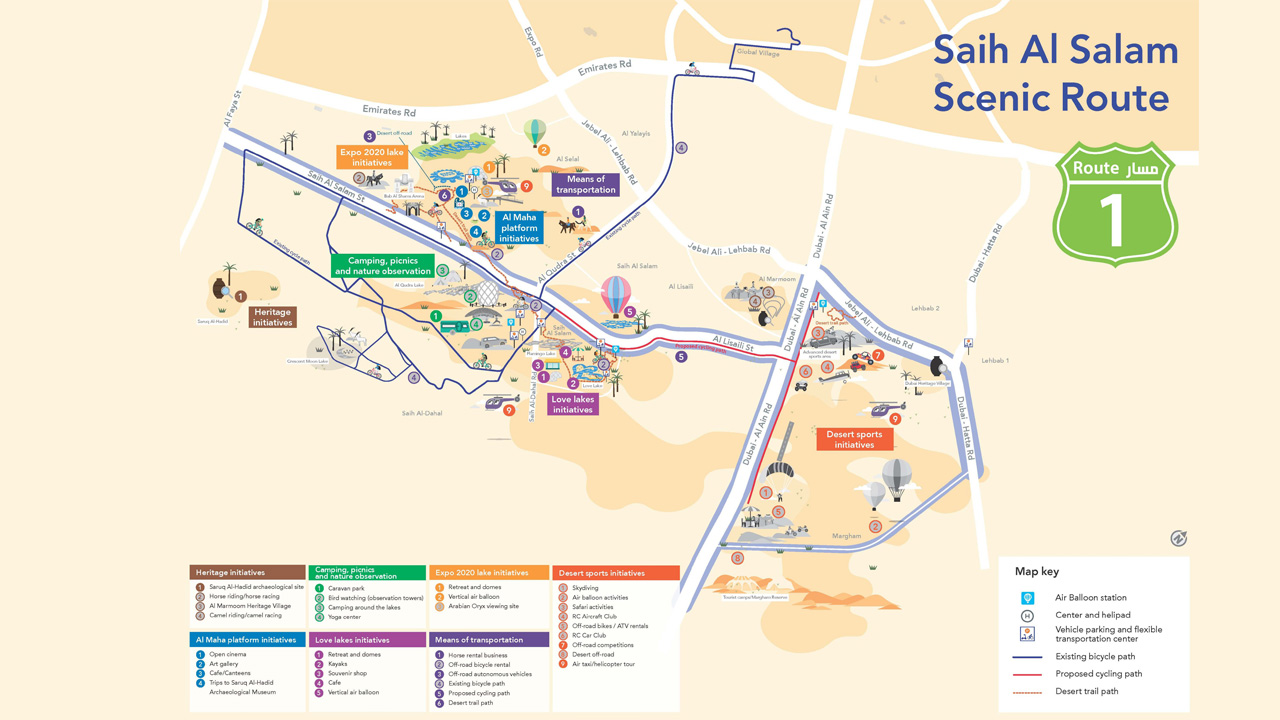 Saih Al Salam Scenic Route Project
His Highness Sheikh Mohammed bin Rashid Al Maktoum, Vice President and Prime Minister of the UAE and Ruler of Dubai, has approved the Saih Al Salam Scenic Route (Route 1) project, a 100km-long road for vehicles and bicycles.
To be built based on the Scenic Route concept, the project will include facilities to provide a holistic tourism experience. It aims to increase the number of activities, events and services that promote desert tourism. The project will also offer investment opportunities for inhabitants, support local projects that stimulate tourism and encourage entrepreneurs to preserve the area's nature and distinctive identity.
The Route 1 project also includes several projects and initiatives, such as providing facilities and services to visitors along the route, offering trips to the ancient sites of Saruq Al-Hadid and Al Marmoom Heritage Village, and other experiences including horse and camel riding and desert walks.
As part of the project, camps and lodges in the form of glass domes with panoramic windows will be built along with open lounges that will allow people to enjoy their stay beside the existing lakes in the area. The project includes providing vertical balloons to offer an elevated view of the lakes with an opportunity to take pictures. In addition, kayak boats will be available and souvenir shops and cafes close to the lakes to enrich the visitors' experience.
The Saih Al Salam Scenic Route 1 Project will also include an outdoor cinema experience through the Open Cinema initiative, in addition to events and art exhibitions. There will be a Caravan Park fitted with the infrastructure and public facilities to receive caravans.
To view the latest news, please click on the link below:
http://dubai2040.ae/en/news/
Connect with us
Communicate with us via any of the following channels