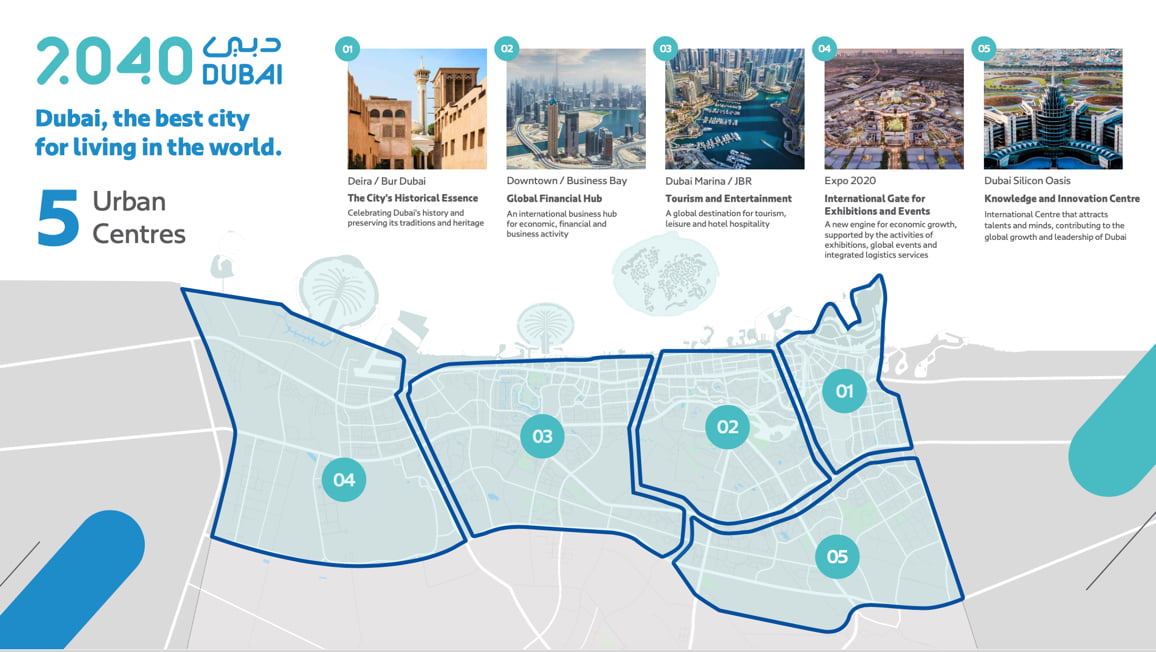 5 Urban Centers
The Dubai Urban Master Plan is focused on development and investment in five urban centers (three existing and two new centers) that support growth of economic sectors and increased job opportunities for its diverse population, in addition to providing a wide range of lifestyle facilities that cater to the needs of all sections of the population.
The existing urban centres include Deira and Bur Dubai, historic areas that highlight the city's historical essence and celebrate Dubai's history while preserving its culture and heritage.
Downtown and Business Bay which is an international business hub for economic, financial and business activity.
The tourism and entertainment centre encompassing the Dubai Marina and JBR that serves as a global destination for tourism, leisure and hotel activity.
The two new centres include Expo 2020 Centre, an economic and growth hotspot supported by the activities of exhibition, global events and integrated logistics services; and Dubai Silicon Oasis Centre, a knowledge and innovation international centre that attracts talents and minds, contributing to the global growth and leadership of Dubai.
All these five urban centers will serve the goal of sustainable development by supporting economic growth and increased job opportunities for their respective populations thereby offering them highest standards of lifestyle.
To view the latest news, please click on the link below:
http://dubai2040.ae/en/news/
Connect with us
Communicate with us via any of the following channels